Metro Vancouver housing market saw few sales and more listings this past July.
To understand what's going on let's look at four key indicators:
Sales
Listings
Sales-To-Active Listings Ratio 

Home prices
REALTOR®'s registered 2,960 sales on our MLS® last month.  This is down about -8% from  last year (July 2016) and less than 1% above the 10 year July average.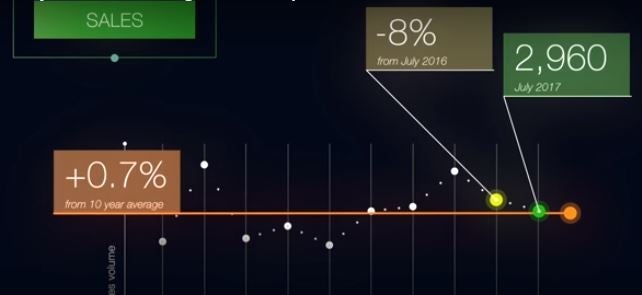 Home listings that supply house demand

Residents listed 5, 256 homes for sale in July.  That's down -8.1% less than June and less than 1% more than last year (July 2016).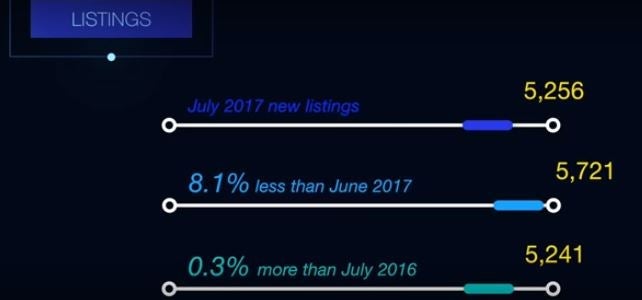 All total there are more than 9,000 homes listed across the region today.  This is the first time since last October that more than 9,000 homes have been sale at one time in our region.

To understand the balance between supply and demand we look towards our third key indicator, Sales-To-Active Listings Ratio.
Sales-To-Active Listings Ratio
This ratio today is 32%.  This is down -13% from last month.  Downward pressure on home prices can occur when the ratio  dips below the 12% mark for a sustained period while home prices can experience upward pressure  when it surpasses 20% over several months.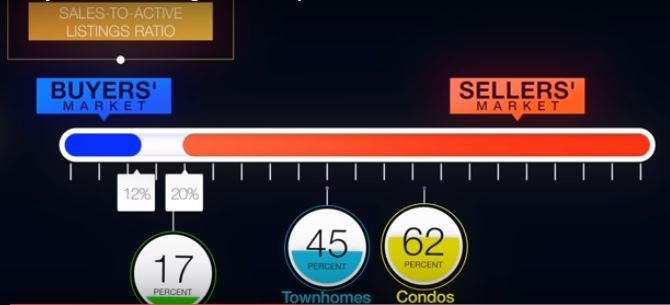 When we write this ratio down by property type we can see the demand for condo's and townhomes is still driving today's activity but demand did decline in July.
The benchmark price for all residential homes in Metro Vancouver is $1, 019,400.  This is up +2.1% over last month and +8.7% since July 2016.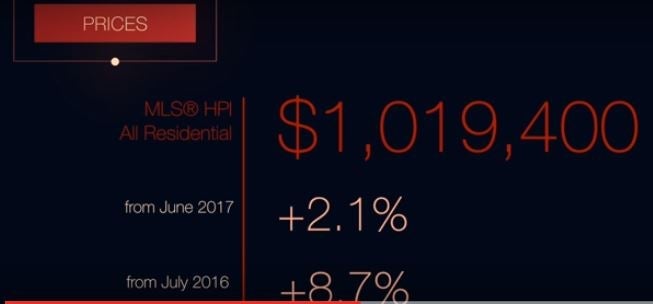 Condo's have seen the largest price increase this year at +18.5% compared to +11.9% rise in townhomes and +1.9% increase for detached homes.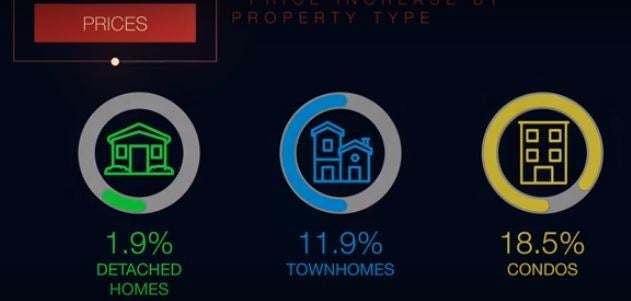 Home buyer demand is inconsistent across the region today.  Pockets of the market are still receiving multiple offers and others are not.  The driving forces behind these discrepancies come down to price, property type and location.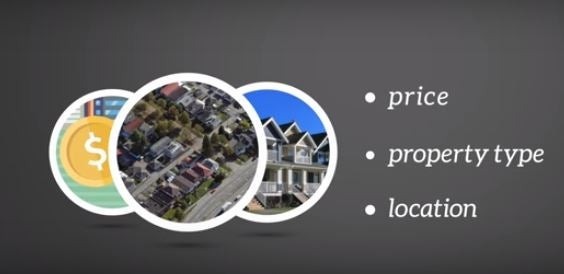 Throughout the year condo's and townhomes have experienced rising demand and low levels of listings on the most part while detached homes have seen more moderate demand coupled with increasing supply. 
As a result, detached homes are taking twice as long to sell on average compared to both condo's and townhomes.  
Our stats also tell us, for example, that the competition for condominiums and townhomes is priced between $380,000 and $580,000 significantly outpaces other housing types.
These nuances in market trends and statistics are critical to helping you understand today's market and set your expectations.
REALTOR'S are experts in housing trends and help you navigate the home buying and selling process.  With almost 30 years successfully facilitating home buyers and sellers under-my-belt....reach out to June Conway.