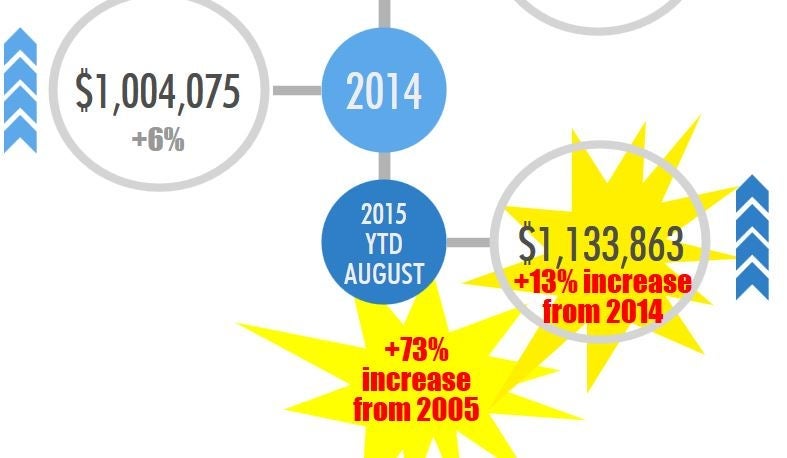 This past August, North Vancouver (NV) house buyers have been competing for a smaller supply of homes for sale than is typical for this time of the year.  
Detached house inventory at the end of the month was the lowest in ten years and new listings down approximately 8% from the Ten Year Average for the month of August as buyers continue to far outstrip the number of NV homes for sale.

INVENTORY
(NEW LISTINGS -Ten Year Average 105)
Because of the tight supply of North Vancouver detached homes August sales were much less than previous months; down 19% and 39% from July and June respectively however prices continued to rise.
The  
August
House Price Index for a detached home in North Vancouver home increased to
$1,188,500
, 
up 1% from July , 
up 16% from August 2014 and 
up 78% from August 2005!

Real estate is hyper local.  North Vancouver (NV) is not unlike 
West Vancouver
 (WV), also made up of 35 different neighborhoods.  Market conditions and prices vary depending on property type, neighborhood and other factors.
Here's a closer look at which neighborhoods the 1,064 North Vancouver homes that changed hands so far:
Blueridge - 48.....................$792,500 - $1,907,000
Boulevard - 43....................$660,000 - $2,305,000
Braemar - 11.......................$1,200,000 - $2,100,000
Calverhall - 18.....................$800,000 - $1,860,000
Canyon Heights - 129.........$910,000 - $4,500,000
Capilano - 17........................$705,000 - $2,434,950
Central Lonsdale - 66..........$820,000 - $1,315,543
Deep Cove - 38....................$800,000 - $3,750,000
Delbrook - 15.......................$1,034,500 - $2,752,500
Dollarton - 22.......................$860,000 - $10,000,000
Edgemont - 72......................$1,040,000 - $3,238,000
Forest Hills - 40.....................$1,155,000 - $3,333,334
Grousewoods - 10................$980,000 - $1,900,000
Hamilton - 14........................$725,000 - $1,840,000
Hamilton Heights - 3...........$1,101,000 - $2,047,619
Indian Arm - 3.......................$390,000 - $550,000
Lower Lonsdale - 19.............$299,850 - $1,579,000
Lynn Valley - 146...................$705,000 - $1,890,000
Lynnmour - 9.........................$700,000 - $1,154,750
Norgate - 15..........................$748,800 - $1,070,000
Northlands - 6......................$1,325,000 - $1,950,000
Pemberton Heights - 26......$975,000 - $2,550,000
Pemberton - 15.....................$715,000 - 1,580,000
Princess Park - 17..................$1,050,000 - $1,849,000
Queensbury - 10....................$855,000 - $2,100,000
Roche Point - 9......................$845,000 - $1,388,000
Seymour - 21.........................$680,000 - $2,400,000
Tempe - 11............................$1,085,000 - 1,360,000
Upper Delbrook - 40............$1,038,000 - $2,800,000
Upper Lonsdale - 84..............$670,000 - $2,900,000
Westlynn - 43.........................$750,000 - $1,628,000
Westlynn Terrace - 9.............$885,000 - $1,299,000
Windsor Park - 12..................$875,000 - $1,290,000
Woodlands-Sunshine-
Cascade - 5.............................$751,530 - $7,000,000
To have the most success in today's market you have to have a sound selling and or buying strategy as well as an understanding of current price trends ~ welcome your follow-up to make that happen :)

june@johnjennings.com
604-828-7888