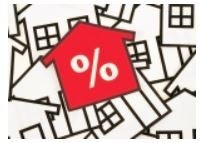 On January 17, 2018, the Bank of Canada (BOC) raised its overnight interest rate 25 basis points to 1.25 per cent citing the growing economy and rising inflationary trends.

In anticipation of this increase, the six major banks raised their posted five-year, fixed-rate mortgage rates to 5.14 per cent from 4.99 per cent.

How will this affect mortgage holders?
All home buyers, even those who don't require mortgage insurance must qualify for their mortgage at a higher rate as of January 1, 2018.
Under the new rules, the minimum qualifying rate for mortgages is:
the greater of the Bank of Canada's five-year benchmark rate; or

the contractual mortgage rate plus two per cent.


BC Real Estate Association's Chief Economist Cameron Muir believes this increase signals a much tighter lending environment for home buyers and owners in 2018.
"While today's rate increase was widely anticipated, it did come earlier in the year than previously expected and likely signals further rate increases to come in 2018. Canadian mortgage rates have already moved higher in anticipation of Bank of Canada tightening, which means a much tighter borrowing environment in 2018, particularly given newly implemented mortgage qualifying rules for low-ratio buyers," Muir said.
Click 
here 
to read the BOC's announcement.