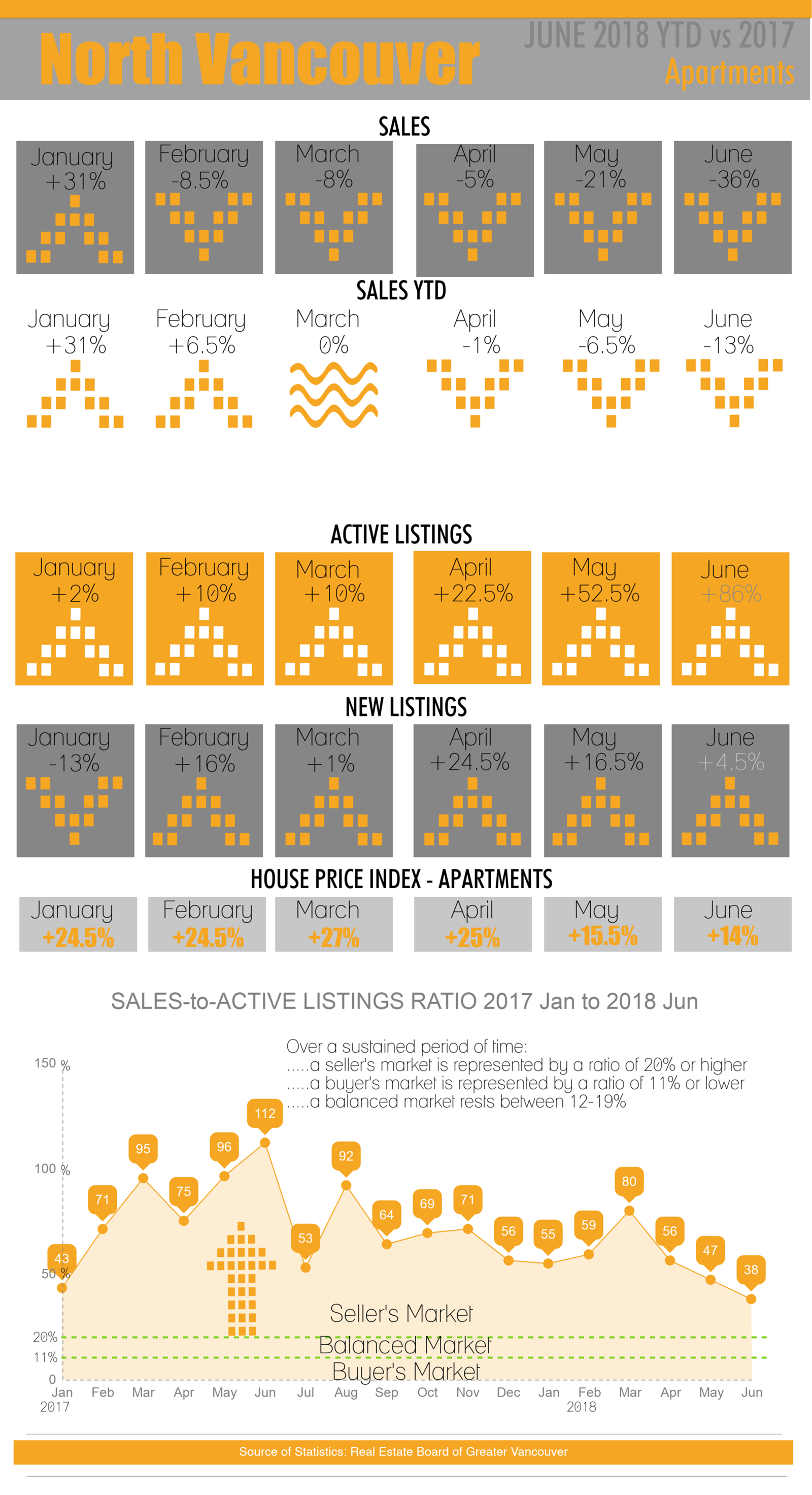 North Vancouver
(NV) apartment market has sustained 'seller market conditions' month after month since February 2015!  
Recent MLS
® 
stats indicate reduced demand and increasing apartment supply will seller market condition wane or sustain for the balance of the year?
Generally, analysts say that downward pressure on property prices occur when the ratio dips below the 12% mark for a sustained period, while property prices often experience upward pressure when it surpasses 20% over several months.
The total number of apartments listed on MLS
® system in North Vancouver was 216, a 86% increase compared to June 2017 (113) and a 4.5
% decrease compared to May 2018 (226 ).  
Sales of NV apartments reached 570 in June 2018, a 12% decrease compare to the 649 sales in June 2017.  The benchmark price for an apartment is $602,800.  This represents a 14% increase from June 2017 and a 1% decrease compared to May 2018.
Would you like to have a more in-depth conversation about the market, buying and or selling?
We'd be please to do so, but only after reviewing and completing new mandatory disclosures, a form called 'Disclosure of Representation in Trading Services' or 'DRTS'.  
Click here
 for a copy of 'DRTS'.  
Click here
 to review 'Disclosure of Risks to Unrepresented Parties.
As of June 15, 
new rules
 were introduced by Real Estate Council of British Columbia to change the way REALTORS® provide service to the consumer. The new rules provide you with greater protection as a home buyer and or seller!