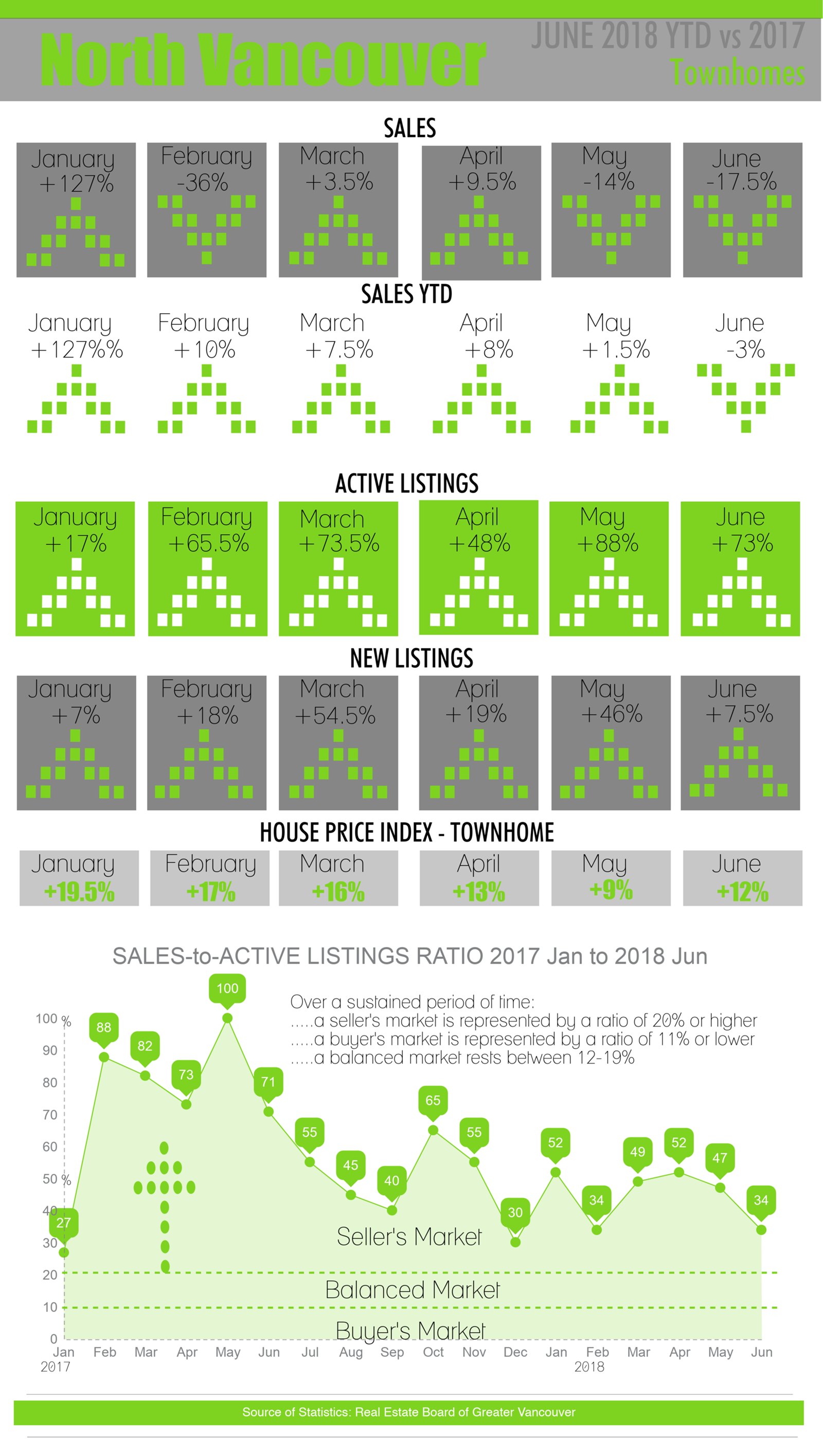 North Vancouver
's (NV) townhome and 
apartment
 market sale activity  year-to-date has been holding in seller's territory.
The sales-to-active listings, over a sustained period of time determines the market:
Balanced Territory
A balanced market occurs when the sales-to-active listing ratio is between 12-19%. In a balanced market prices should rise in-line with the long term average of inflation.
Seller's Territory
A Seller's market is when there is a higher ratio of sales to listing, typically indicated by a sales-to-active listings ratio of 20% or higher. This causes upward pressure on pricing.
Buyer's Territory
A Buyer's market is when there is a lower ratio of sales to listing, typically indicated by a sales-to-active listings ratio of 11% or lower. This causes downward pressure on pricing.
YTD MLS
® 
stats show townhome sales just little behind last years ytd totals.
Townhome sales for the first six months of this year totaled 176, a 3% decline from the 181 sales recorded for 2017'.  For June alone there were 33 sales, a 17.5% decrease compared to 40 sales in June 2017 and down 8% from May 2018's 36 sales.  
Despite declining NV townhome sales, last month sales were still 18% above the 10 year monthly sales average.
With weaker Buyers activity, supply accumulating, all North Shore property types (detached homes, apartments and townhomes) are showing decelerating price growth, some property types more than others and depending whether in West Vancouver or North Vancouver.
Would you like to have a more in-depth conversation about the market, buying and or selling?
We'd be please to do so, but only after reviewing and completing new mandatory disclosures, a form called 'Disclosure of Representation in Trading Services' or 'DRTS'.  
Click here
 for a copy of 'DRTS'.  
Click here
 to review 'Disclosure of Risks to Unrepresented Parties.
As of June 15, 
new rules
 were introduced by Real Estate Council of British Columbia to change the way REALTORS® provide service to the consumer. The new rules provide you with greater protection as a home buyer and or seller!